20 mins read
How to earn money from Shareasale Affiliate Marketplace?
What is ShareASale?
Shareasale is an affiliate marketing platform. It is one of the top marketplaces for marketers. It was started in the year 2000.
There are about 5000+ affiliate merchants available on this. Any blogger or internet marketer can join these affiliate programs and earn commission by promoting them.
That is, Shareasale is a platform of many affiliate networks, and any marketer can start earning money by joining many affiliate programs through it.
Shareasale provides 2 types of customer service, one Merchant and the other Affiliate, both can sign up with different types.
Before knowing about making money from Shareasale, you need to know about these 4 terms.
Merchants : Merchants are business owners who set up their affiliate program so that people promote their business in exchange for commission.
Affiliate Marketers : Bloggers, Internet marketers or any users like me and you who promote affiliate programs through their blog, PPC or other means.
Affiliate Program : This is the system in which merchants provide commission to promote their product.
Affiliate Marketplace : A marketplace is a place where affiliates discover new opportunities, and where there are many different types of affiliate merchants.
Apart from Shareasale, there are many other affiliate marketplaces, such as ClickBank, CJ, etc.
What are the Sign Up Requirements for Shareasale Affiliate?
Many questions related to Shareasale Affiliate will be in your mind, the first of them is that what are the requirements to join Shareasale Affiliate Program? Its first requirements are that you must have a blog or website and it should also have good traffic. You cannot join the Shareasale Affiliate program without a blog or website.
The second question is that Shareasale Affiliate approves the blog with how much traffic? There are no Minimum Traffic Requirement for this, but still, your blog should have at least 10,000/Month visitors because you will be unable to sell in fewer visitors and your account will be disabled.
Can we promote its products on all websites? Yes, you can, but you have to add all the websites to Shareasale Affiliate as we do in Google Adsense.
How are the Payments Terms of Shareasale Affiliate? Here payment is given according to Net 30 Days. Meaning that if you reach its minimum payment in January, then you get money on the 20th of February.
What is its minimum payout? Shareasale pays you only after getting $50. For this, you have to deposit this amount first.
How do we get paid in Shareasale Affiliate? Here you get 3 options for payment.
Direct Deposits
Mailed Check
Payoneer
You can get money by choosing any of the methods according to your wish.
Is ShareAsale Affiliate Free? Yes, joining ShareAsale Marketplace is free. You can join Shareasale Affiliate from the link given below.
ShareAsale Affiliate Program Sign Up
Here I am not telling you how you can join Shareasale Marketplace. It is very easy, if you have joined other Affiliate Programs, then you can join it in the same way, just you have to go on answering their question and in 2 minutes you will successfully signup.
If you still face a problem then you can join it by following Shareasale's Sign Up Guide. This is the official blog of Shareasale Affiliate. You can read it from here How To Sign Up as an Affiliate With the help of this tutorial, anyone can very easily sign up on ShareAsale Affiliate Program.
How to earn money from ShareASale – english Information
To earn money from Shareasale affiliate marketing, you have to create an account on it and when your account is approved then you can start using its affiliate program.
You will get separate referral links, banners, custom links, coupon codes for all affiliate programs. You can earn commission by promoting affiliate products on your blog through them.
No special knowledge is required to create an account on Shareasale, but you have to keep some important points in mind otherwise your account will not be approved.
Here I am sharing with you step by step with screenshot guidelines to create an account on ShareASale.
ShareASale Review – Scam or Legit? 
ShareASale is NOT a scam.
ShareASale affiliate programs are sometimes of poor quality. Overhyped junk products are easy to come by. But that's only half the story.
It's a megastore filled with lots of good programs too. ShareASale is like a mega supermarket with everything under one roof.
You must always do good research to achieve success. If you choose to promote the products, ensure that they are authentic. 
Check out the refund rates of products as well. If you want to find out what a product is like, you should buy it. 
To ensure you understand ShareASale's affiliate program before joining, make sure you carefully review it. Overall, ShareASale looks like an offer you shouldn't overlook!
How to use ShareASale Affiliate Marketplace?
step 1:
First, you go to the ShareASale homepage.
Click on Affiliate Login button.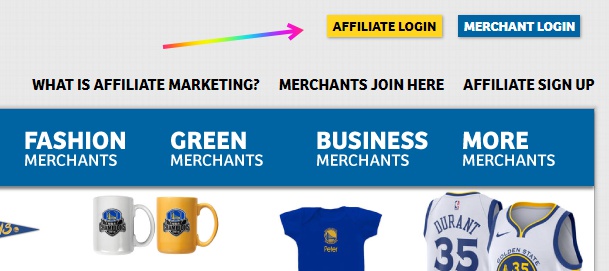 Step 2:
Now here you can join merchants with products related to your site content.
In the top menu go to Merchants >> Search for merchants .
After that select the categories in the left sidebar and choose Merchants.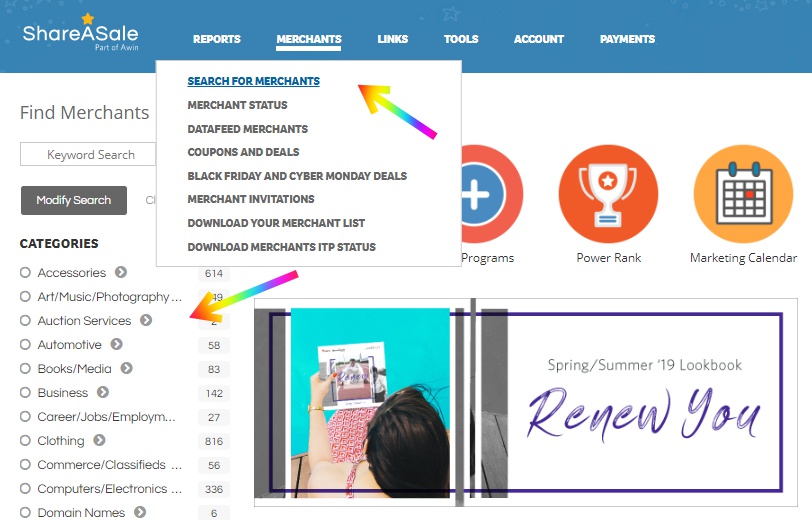 Step 3:
For example, blogging, SEO, web hosting, etc. on my blog. If the content is written on the topic, then I can choose merchants with blogging tools, SEO tools, web hosting providers. After selecting the category, you have to click on the Join Program button in front of the merchants. Select the category and click on Join Program. After getting approval, you can get a referral link by clicking on getting links.

Some affiliate programs get approval automatically and some get manual approval. Step 4:Now when you will get approval from the program you have joined, you can click on Get Links to get its referral link. You will get 3 types of referral links. One Text Links, Banners, and Custom Link. You can choose the link type according to you.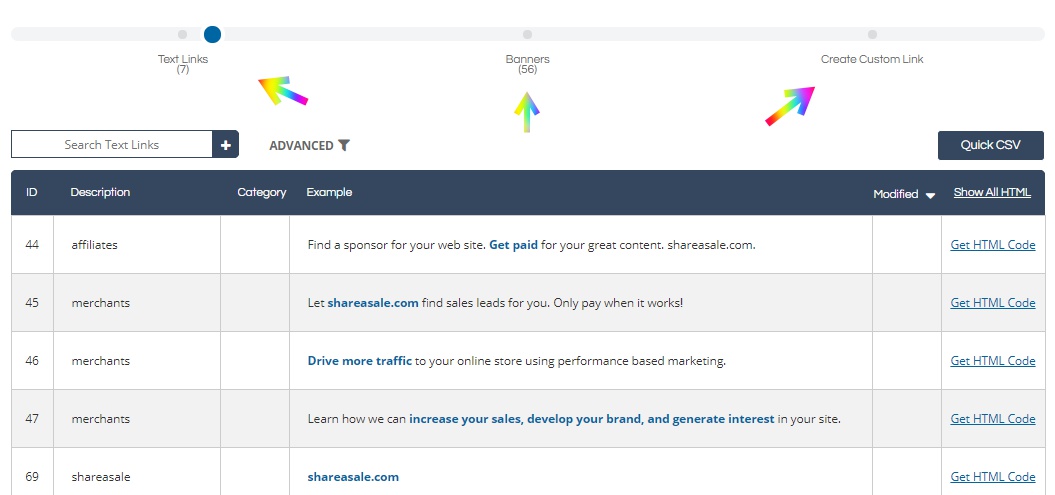 After receiving referral links, promote them on your blog and start earning a commission. While some affiliate programs offer a minimum $5 commission per sell,
some affiliate programs (such as WP Engine) provide a 200% commission per sell. How Much Earning Can You Make From ShareASale Affiliate Program? 
It depends on the traffic and audience of your website, how many sales you can get. The more sales you get, the more commission you will get and the more money you will earn. When you cross the ShareASale minimum threshold limit of $ 50, then you can take payment in PayPal or your bank account.
ShareASale Payout Terms and Option
When a merchant approves your application, you'll receive a unique link that you can place on your website. Depending on the offer format you select, you will earn commissions. 
Pay per click, pay per sales, or pay per leads are all types of pay-per-click. The commission you receive from a merchant depends on what your arrangement is.
Shareasale.com will handle the payment. Unless your account balance falls below $50 in previous transactions, you will be paid on the 20th of every month. 
There is no interest charged on the money you have deposited. Payoneer or by cheque are both options for receiving your money.
However, if a merchant is void or, in other words, if they do not pay or change the terms of payment, ShareASale will recover the marketing commission, if it has been previously credited. 
A deduction will be made from your future earnings if your account balance falls below the void balance. In cases of fraud, returned merchandise, re-duplicate transactions, etc., a merchant may cancel a transaction.
It is important to note that commissions will be deducted automatically from your account. You will never be asked to send money to ShareASale.
4. Poor Customer Service 
There is no way for ShareASale customers to contact some personnel within the actual network if they are having a problem with a ShareASale product. If you wish to return the product, you need to contact the seller directly. 
The problem with ShareASale is twofold: first, what's the point of even having a support system? Secondly, how about when the product owner is disappointing? What if contacting the product owner wasn't easy? All of these questions are real. 
I've encountered issues with products I bought from ShareASale and I found it difficult to reach the owner. Furthermore, all support I could get from ShareASale was indirect, and I ended up disputing some charges with my credit card company.
What Affiliate Programs Does ShareASale Offer?
Nearly 4,000 offers are available on ShareASale. The affiliate programs listed below fall under multiple categories, making it easy for affiliates to choose between them based on their preferences. 
To choose from, you can find fashion vendors, business vendors, green vendors, home and garden vendors, and a lot more.
Depending on the merchant, the sale commission varies for each offer. Some companies may offer sales commissions as low as 3.00% while others offer sales commissions as high as 30%. Some programs, too, offer flat fees like $20 per lead or $40 per sale.
Currently, there are 5,921 pay-per-sale programs and 333 pay-per-lead programs on the company's website. Programs are being added daily, so there's no lack of choice.
The quality of offers depends entirely on what you choose to take up. In addition to our discussion above, sales commissions can range from 3% to 30% or more. Now, a low commissions offer does not automatically imply that it is of lesser quality. 
Affiliates may also benefit from other perks and add-ons, which makes this an excellent offer overall. Depending on your needs, you may receive materials, such as sophisticated sales banners, links, etc.
The more complex the lure on your platform is, the greater the chance that your readers will follow your referral to the merchant's website. 
This way it makes your job as an affiliate much easier. This is an especially important step for pay-per-click sites as it ensures that your earnings will be high.
ShareASale offers a variety of high-quality products from well-known brands. While offers change constantly, here are some of the top brands at the time of writing:
Weebly
Reebok
MyPillow
Brooklinen
Erin Condren
Smile Direct Club
Sun Basket
Moreover, ShareASale offers an extensive range of niche offers of higher quality. ShareASale does not have many spammy offers (aka low-quality CPA networks). It is comparable to both Flex Offers and Commission Junction.
Advantages of Shareasale Affiliate
Joining ShareAsale's Marketplace is very easy.
Its Marketplace is very good and more than 5000 Merchants are connected in it, due to which you can monetize any of your Blog Niche .
Its interface is very easy.
You get high commission.
You can find any kind of Affiliate Program according to your choice.
On ShareAsale, you get pay-per-call functionality as well as two-tier programs which prove to be helpful in increasing your income.
Here you get the tool of product banner creator, in which you can create banner add according to your own.
One thing is very good about it that here you are given Monthly Payment.
In this Affiliate Program, you get Quick Support, due to which you can get the solution of any of your questions.
Disadvantages of Shareasale
To join this, you have to have a blog or website.
There is no option of Paypal for payment.
Its approval process takes a lot of time.
How Does ShareASale Work?
It would be boring to go over every menu option in detail. In addition, affiliates are interested in only two aspects of this stuff:
Where can I find the products?
How do I create my affiliate link?
Finding Affiliate Programs
Now, here is where ShareASale kicks all other affiliate networks out of the water.
It is the same as their competitors – click on 'Merchants' and then 'Search for Merchants'.
There are various categories available here, so you can find one that interests you.
As far as ShareASale is concerned, there is nothing new until you realize you can pick from thousands of merchants.
Affiliate programs can be sorted by:
7 or 30-day EPC
Sale Commission
Lead Commission
Hit/Click Commission
Alphabetical
Start Date
Cookie Length
Power Rank (internal metric) 
Joined Status
It is, however, the 'Modify Search' submenu that I find most useful. It's like having superpowers to find just the affiliate programs you're looking for.
In any adequate amount of detail, there are a lot of search parameters to cover, but my favorites are:
Auto-Approval
EPC Greater Than
Commission Rate Greater Than
Two-tier Program
I can find programs that will automatically approve my application and pay the commission amount I desire, as well as an EPC that shows I will make long-term cash, as well as the option of getting paid for referrals made by sub-affiliates.
Compared to ShareASale, networks much bigger and better can't even touch this search functionality.
The process of finding an affiliate program that fits your needs has never been easier.
Cons and Complaints of ShareASale
It's easy to understand why some doubt the reliability of ShareASale when so many people claim that it's a scam. 
Let's examine the biggest grievances people post online.
1. The Affiliate links Don't Work Very Well With WordPress
There are a lot of affiliate links that aren't WordPress-friendly. This is because, when switching back and forth between the text and visual modes, ShareASale inserts characters such as "&" in affiliate links, which WordPress automatically obliterates and replaces with "&nbsp.". 
The fact that I can preview my content as I am formatting it is pretty important to me because I'm a very visual person. After switching over to the visual formatter, the characters are automatically replaced and my ShareASale text styles become invalid. 
Because of this, I have to add my links right before I publish in a plain text viewer, which is confusing because the text is all raw code.
Certainly, there are reports on what has been clicked, but I'm not able to tell if I have any broken links. 
I'm particularly frustrated by this, as I am sure a lot of my links were inadvertently broken over the years when making edits to articles in WordPress.
2. No Notice of Program Termination
The ShareASale affiliate network has received complaints from some affiliates about merchant programs being removed from the network without notice. 
No affiliates received notification that their affiliate links had been deleted, so they were suddenly useless. The problem here is fairly large, and ShareASale should address it.
The affiliate who keeps track of tracking and reports, however, will be able to tell when something isn't right with one of his or her links.
3. Account Deletion and Fees Threat
There is a $50 payout threshold for ShareASale affiliates. Compared with most of its competitors, this is quite a bit higher, which may put off potential affiliates. 
Even worse, You may risk your account being deleted if your balance is below $25. You may be charged $25 if you don't reach the $50 threshold with ShareASale. 
For new affiliate marketers, this can pose a greater problem since they may not have an adequate amount of sales yet. For larger affiliate marketers, this isn't a significant issue.
4. Poor Customer Service 
There is no way for ShareASale customers to contact some personnel within the actual network if they are having a problem with a ShareASale product. If you wish to return the product, you need to contact the seller directly. 
The problem with ShareASale is twofold: first, what's the point of even having a support system? Secondly, how about when the product owner is disappointing? What if contacting the product owner wasn't easy? All of these questions are real. 
I've encountered issues with products I bought from ShareASale and I found it difficult to reach the owner. Furthermore, all support I could get from ShareASale was indirect, and I ended up disputing some charges with my credit card company.
5. Quality Programs Face Fierce Competition. 
If you ask me, this is a good problem. Why do I say that? It is because the more competition there is, the higher will be the amount of searching as everyone is promoting the product.
Thus, if you can master advanced SEO (search engine optimization) techniques and rank your article on the first page of your target keywords, you might get sales automatically.
This is what you can learn for free from my #1 recommended affiliate training platform.
Pros of ShareASale
1. Signing Up is Easy.
Creating an account is simple. Signing up for ShareASale is a quick and easy five-step process that only takes a few minutes. For new publishers, ShareASale has made signing up as straightforward as possible.
As a vendor, you can then connect to a massive group of affiliates who will promote your products, and a software system is designed to compensate these affiliates and you for each sale (you don't have to know how to program, this network handles it all for you).
2. A Wide Variety of Merchants
The product line of ShareASale covers almost anything: tech, weddings, apparel, fitness, automotive, gifts, or productivity. There are over 4800 different merchants available on their platform spanning over 40 different categories! Those numbers are astounding, and they keep growing each day.
The merchants represented here include many big names in their fields, including Viator, WP Engine, Mod Cloth, Jillian Michaels, and the NBA Store. 
You can choose from a variety of different programs at ShareASale since small and large brands are represented there.
3. Easy and Efficient Search Functions
How are you going to find the merchant program that fits your business the best out of over 4,800 available on ShareASale?
Here are ShareASale's fantastic search options. By using specific keywords, EPC, commission rates, merchant status, or how long they've been a ShareASale merchant, you can filter your searches further.
The other feature that ShareASale offers is a PowerRank, which helps you sort through the best of the available merchants. Using this search, you can view the 100 most popular merchants currently on ShareASale.
You will be able to find your ideal affiliate program easily using these tools.
4. Easy To Use
As the company claims, ShareASale is extremely user-friendly. Users will find it easy to navigate, has an extensive knowledge base, and is perfect for both individuals just getting started and those with some experience.
If you're an affiliate marketer with several websites you wish to monetize with ShareASale, then you are in luck. The network simplifies the application process for website owners who run more than one website.
All the websites you currently own will be listed in order of importance, allowing you to upload all of them. This will eliminate the need for you to enroll multiple times for different merchant programs. You only need to submit one application to get all your websites included.