12 Best Slider Plugins for WordPress Sites
Do you want to add the responsive content slider to your WordPress site? There are many paid and free WordPress slider plugins available in the market for WordPress.
Here I have listed 13 paid and free WordPress slider plugins so that you can easily select a good WordPress slider plugin for your website.
Many WordPress themes provide an in-built slider for your site and some come without a slider. If you are using a theme on your website that does not provide a Slider for your site, then you can choose one of the listed WordPress Slider Plugins.
Best Slider Plugin for WordPress
Soliloquy is a top-rated paid slider plugin. If you install the Soliloquy plugin on your WordPress site, then you will not need to hire any developer to create the slider.
Soliloquy is a drag & drop image slider plugin that is very powerful and easy to use.
It comes with four different pricing plans. With its help, you can create beautiful responsive image sliders and video sliders on your site. It looks good on any device (mobile, tablet, laptop, and desktop).
Slider Revolution is a beautiful, responsive WordPress Slider Plugin that makes your content appear beautifully. This is the second best-selling slider plugin developed by CodeCanyon.
It has a powerful Visual Composer that allows you to create a beautiful presentation. Slider Revolution is fully responsive and it looks great on any device.
MetaSlider is a very popular free WordPress slider plugin developed by Team Updraft. With its help, you can create a unique, SEO-optimized slideshow in seconds.
It is available in both free and paid versions. MetaSlider provides a simple, easy-to-use interface for you which is the perfect slider plugin for beginners and developers.
LayerSlider is a multi-purpose premium WordPress plugin. With its help, you can add slideshows and image galleries to your site with mind-blowing effects.
It provides a drag and drops visual editor so that one can easily customize LayerSlider as per their need. In this, you do not need any kind of coding or technical skills.
With the help of this plugin, you can add images, videos, HTML text, and shortcodes to your slides. Royal Slider is visible on any device.
It doesn't have too many fancy transition effects, but it works fast and smoothly. The plugin is used by top agencies and brands around the world.
Nivo Slider is a paid WordPress slider plugin that helps you create and manage multiple sliders on your WordPress sites.
It provides 16 transition effects for your slider. It is completely responsive and mobile-ready.
Meteor Slides is also a great slider plugin that allows you to create slideshows on your blog with shortcode, widget, or template tags.
This is a fully responsive WordPress slider plugin that fits easily on any device. It has more than twenty transition styles.
Cyclone Slider is a simple responsive slider plugin that is very easy to use. It provides an intuitive user interface and supports images, YouTube, Vimeo, custom HTML, and testimonial slides.
It comes with 4 different templates (Dark, Default, Standard, Thumbnails). In addition, you can develop your custom templates.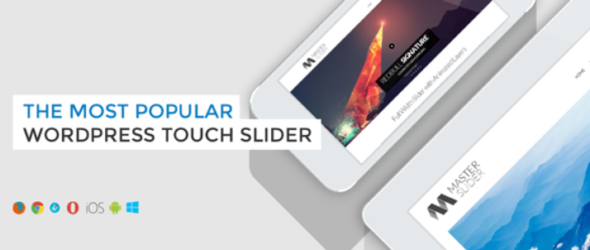 Master Slider is a free responsive image and video slider plugin that looks perfect on all devices and has super smooth transitions. It supports touch navigation with a pure swipe gesture.
Its interface is very easy to use and it comes with a highly user-friendly Admin Panel.
Slider WD allows you to create sliders on your website pages, posts, theme header, or any place.
It supports both images and video slides and provides a better user experience on your site.
There are tons of transition effects in Slider WD and it's the easiest solution for creating beautiful sliders.
Smooth Slider is a good WordPress slider plugin. You can also use it as a carousel. It is specially designed for WordPress CMS which helps in creating fully responsive slides.
Ultimate responsive image slider is a responsive slider plugin. You can add infinite image slides to a slider. You can publish unlimited slider on Page or Post content.
It has lots of customization options (height and width, autoplay slides, slide thumbnails, navigation buttons, and more).
Smart Slider 3 helps you create beautiful sliders, carousels, and blocks on your site. And you do not need any kind of coding knowledge. It offers 100+ professionally designed sliders or you can start with a blank page.
It is fully responsive, SEO optimized and works perfectly with any WordPress theme.
If you liked the WordPress slider plugin listed, please don't forget to share it!